Our Companies
Mulch Outfitters is part of The Recreational Group, a family owned family of companies dedicated to the design, manufacturing and installation of premier recreational surfacing solutions. Having access to these company's innovative products and highly-trained design and installation professionals allows us to truly Bring Space to Life.

XGrass specializes in the design, installation, service and support of synthetic turf systems that are helping to revolutionize both the sports surfacing and landscaping markets. Its synthetic turf solutions provide low maintenance, environmentally friendly alternatives to traditional grass in applications that range from playgrounds and athletic fields to backyard bocce courts and putting greens.

VersaCourt is a leading manufacturer and designer of court tile systems used in the development of both outdoor and indoor courts. Its outdoor tile systems offer a safe, colorful and low maintenance alternative to traditional asphalt and concrete courts while its indoor tile systems help transform gyms and other recreational areas into multi-purpose fun zones.

Known for producing the most attractive, highest-performing golf practice surfaces available, Tour Greens designs and installs tour quality synthetic golf solutions including putting greens, executive courses and practice facilities. Its innovative system is the choice of numerous PGA golfers because its tour-quality greens provide the realistic feedback needed for effective practice time - but without the daily maintenance.

Duraflex provides innovative rubber surfacing solutions that allow kids to play safer, athletes to train harder and architects to design cooler. Its experienced professionals know that the secret to a high performance, long lasting rubber surface lies in expert design, service and installation and they have a proven history of performance.

Lanmark Designs specializes in developing practical and pleasing outdoor living space with elements of fun, activity and healthy living. Its landscape architects blend the core elements of landscape design with innovative, environmentally-friendly surfacing from XGrass, Duraflex Surfacing, VersaCourt, Tour Greens and Mulch Outfitters to create spaces that truly come to life.

For over 20 years Swisstrax™ has earned its reputation as "The World's Finest Modular Flooring" by consistently providing a superior product, design and experience. Its line of interlocking floor tiles comes in a variety of styles, materials and colors that can be intermixed to create everything from innovative, colorful garage floors to fun and functional trade show and event flooring. With Swisstrax, the applications are endless.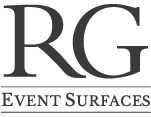 With over a 25-year history in innovative surfacing solutions, The Recreational Group is the authority on a variety of permanent and temporary flooring solutions for applications like events, sports, trade shows, conferences and much more. Whether you're looking for eye-catching rental flooring for a trade show, or a complete custom floor graphic for a special event, start the conversation with the RG Event Surfaces team to find the right surfacing solution for any application.
We're Made in the USA
At the Recreational Group, we are proud to bleed red, white and blue. Our innovative line of recreational surfacing is genuinely crafted by our home-grown team right here in the USA.